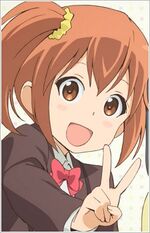 Kanaka Amaya is a high school student and considered the "mood maker" amongst her friends. She is a prankster and is always looking to troll Saki or anyone else within running distance, but she also likes to tease Ayuko.
Loading RSS data...

Ad blocker interference detected!
Wikia is a free-to-use site that makes money from advertising. We have a modified experience for viewers using ad blockers

Wikia is not accessible if you've made further modifications. Remove the custom ad blocker rule(s) and the page will load as expected.